A Book a Month
We can send a book a month for six or twelve months - the perfect gift. More »
1 January 2015
First of all: Happy New Year to everyone!
Our website meltdown has necessitated a) some soul searching and b) some re-jigging. Firstly: the Persephone Letter will now be on the first and the fifteenth of the month. We are also going to send emails on these days (starting on January 15th) alerting the thirty thousand people on our email list (fortunately still saved through Mail Chimp) that there is a new letter, and also telling them about other 'Persephone related' news. Further changes: when the Forum goes live again on the 15th it is going to be re-named The Persephone Perspective. And we are going to start a new page called Random Commentary (in homage of course to Dorothy Whipple's autobiographical book of that name about her writing life) in which we write about some neglected Persephone books, books which should be better known but mysteriously get overlooked. First up will be our worst seller (well there has to be one) Lettice Delmer; after that Dinners for Beginners which has never really 'taken off'. More (small) changes will follow with the spring books but that is probably as much as the system/we can cope with for now.
Persephone Books has a new heroine: Elizabeth Warren, now senator for Massachusetts. If you have never heard of her watch this video. Here is an extract from one of the speeches for which she has become famous: 'There is nobody in this country who got rich on his own. Nobody. … You moved your goods to market on the roads the rest of us paid for; you hired workers the rest of us paid to educate; you were safe in your factory because of police forces and fire forces that the rest of us paid for. You didn't have to worry that marauding bands would come and seize everything at your factory, and hire someone to protect against this, because of the work the rest of us did. Now look, you built a factory and it turned into something terrific, or a great idea. God bless. Keep a big hunk of it. But part of the underlying social contract is, you take a hunk of that and pay forward for the next kid who comes along.'  It seems unlikely Elizabeth Warren will run for president as she doesn't want to stymie Hilary Clinton's chances. But whatever one's political persuasion, she is a great role model for women.
Jane Bown, one of our greatest photographers, died last week. The Observer did her proud with the  obituary and a large selection of her extraordinary photographs. This is a back street in the town of Barley, Yorkshire, 1974.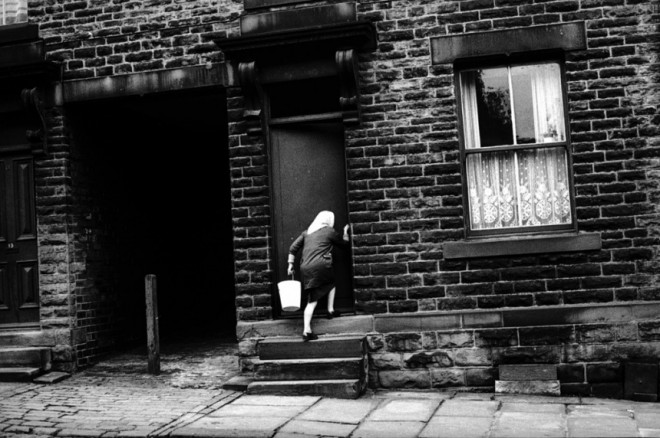 Also there was an obituary of of the incredible Michael Fishman; and while on the subject of the East End, do try and get to the dolls' house exhibition at the Museum of Childhood. Here are several more photographs of the modernist dolls house called Whiteladies;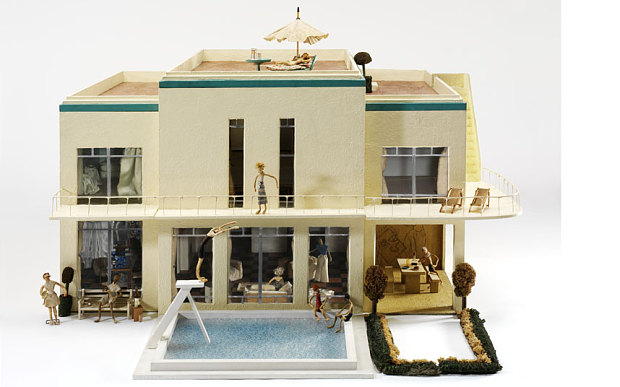 and there was a good article about the exhibition by Oliver Wainwright.
Please go to 3 Winters if you can – it's superb. Here is the trailer (you get a few bars of the beautiful music). There are performances until the beginning of February and it is highly, highly recommended.
Polly Toynbee wrote about Round about a Pound a Week in the Guardian :'In 1913 the eye-opening report, Round About a Pound a Week by Maud Pember Reeves and her group of Fabian women (republished by Persephone Books) detailed the household accounts of mothers trying to keep their families on the average £1 manual wage. The report's irrefutable evidence showed that wages were too low to live on, puncturing the perpetual myth among the comfortable (then as now) that the working classes were "bad managers". In fact, these mothers scrimped every farthing, maximising calories in bread and dripping.'
The Tate Gallery has put 50,000 letters, sketchbooks and photographs online in its archive – far too much to search through but this characterful Ardizzone 1931 watercolour is called 'The Departure'.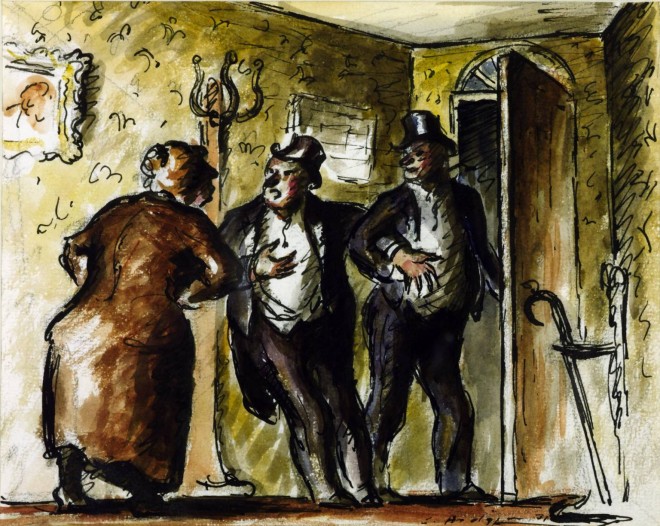 Here is a blog about the perennial question of whether women read different books from men and whether the books they like should be published in a different way from those written by men. There is one telling statistic: of the top fifty books read by women, only five were written by men. And here is an interesting article about James Daunt and the renaissance of Waterstones.
Today we shall be listening to the all day adaptation of War and Peace. But nothing, not Downton Abbey, not Call the Midwife (although the Christmas episode was good), not Mapp and Lucia, nothing can compare with the marvelous, amazing, totally brilliant Home Front. The acting is extraordinary (the dialogue is so realistic that it sounds as though it's actually happening rather then being read from a script), the sound effects are superb and the characterization! When Kitty Wilson came back in yesterday's episode we in the office wept buckets and buckets. Now that Isobel Graham is going to be an ambulance driver in France maybe she could be a colleague of Cicely Hamilton's. Here is a photograph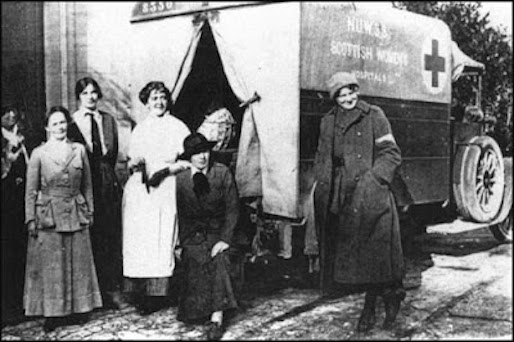 which could perhaps incorporate Isobel Graham? It is taken from a very good Wild Oak Academy blog about William – an Englishman (Cicely Hamilton is sitting down).
Nicola Beauman
59 Lamb's Conduit Street
choosing a selection results in a full page refresh
Opens in a new window.
Opens external website in a new window.
Back to top