A Book a Month
We can send a book a month for six or twelve months - the perfect gift. More »
17th November
Although the arts and crafts in the Soviet Union were often co-opted for political purposes, one of the underlying themes in Sofia Petrovna is the timeless importance of, and consolation in, domestic creativity. Sofia and Natasha, who is "clever with her hands", listen to operas and concerts on the radio while Natasha, who can also "knit beautifully", works on her embroidery. This is the Sun Chariot, a traditional northern Russian counted thread embroidery motif. 
---
16th November 2023
Sofia Petrovna's beloved son, Kolya, buys her a 'little tea service' for her birthday. Because of her per-Revolution background and taste, she doesn't really like the pattern - "sort of squares, red and yellow" - and "would have preferred flowers". The set could be something similar to this, designed in 1930 by Nikolai Suetin (1897-1954), a leading Suprematist artist and chief designer at the Lomonosov State Porcelain Factory (est.1744) in Leningrad. It's not quite propaganda porcelain, but this early abstract art movement based on 'non objective' geometric shapes in alignment was state-approved. 
---
15th November 2023
This is a reconstruction of shared kitchen in Museum of Political History in what is now St Petersburg. As becomes very clear in Sofia Petrovna, the importance of Soviet kitchens and kitchen politics cannot be underestimated. The CCCP Cook Book (2015) is an often grimly fascinating insight into Soviet cuisine. 
---
14th November 2023
Sofia Petrovna works in a large publishing house in Leningrad. This is highly appropriate on several levels; literature and writers had always traditionally been held in great esteem in Russia, and there was at this time a huge literacy drive (ie in Russian) throughout the Soviet Union. This is a poster (c1924, details here) for a state publishing house with "books on all branches of knowledge". It depicts the famous bookshop Dom Knigi (House of the Book) in the former Singer sewing machine building (1902-4) on Nevsky Prospect.
---
13 November 2023
We have just published the short novel Sofia Petrovna, one of the few surviving contemporaneous accounts of the Great Purge, and thus a rare and important book. So this week on the Post we look at aspects of everyday life in Leningrad in the 1930s for someone like Sofia Petrovna. This is the grand, bustling Nevsky Prospect (as with the Leningrad, its name has changed several times) which, outwardly at least, resembles many other important European boulevards and avenues.
---
10th November 2023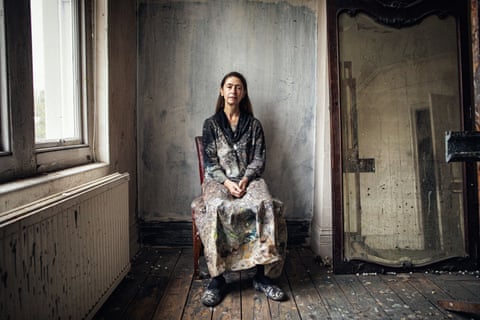 In Letters to Gwen John (2022), Celia Paul considers "Gwen John's life as it intersects, or conflicts, with mine", and explores the overlaps and similarities in their relationships with famous men (Rodin and Lucian Freud), the deliberate absence of domestic comforts, and their total dedication to painting. This review explains the immense influence of Gwen John on Celia Paul.
---
9th November 2023
The Gwen John exhibition at the Holburne includes a painting by Vilhelm Hammershøi (1864-1916), whom she may have known Hammershøi through her friend, Rilke, or through her sister-in-law, Ida Nettleship. As the exhibition explains, "Hammershøi was known for his austere interiors with or without enigmatic women" and these quiet domestic themes connect both artists to others such as Vermeer and Vuillard. This is his Interior in Strandgade, Sunlight on the Floor (1901, Statens Museum for Kunst).