A Book a Month
We can send a book a month for six or twelve months - the perfect gift. More »
14 December 2016
It is busy in the shop but the Persephone girls are beginning to think about their Christmas break in spots as varied as Nottingham, Lewes and Pondicherry (now Puducherry; this last as part of a two and a half week trip to South India, which is holiday but will include a hunt for an Indian woman writer to reprint – suggestions gratefully received – and a visit to Re-Wrap's women's co-operative which makes the beautiful Persephone bags). Opening hours will be on the website but here they are: we are open on Christmas Eve from 12-5, then closed until Thursday 29th when we are back to normal except that Monday January 2nd is a Bank Holiday and we shall be closed: so we are not really back to normal until Tuesday 3rd. (Last posting dates: we are eternal optimists and expect everything to arrive by Saturday 24th if posted by Wednesday 21st.)
'Urban explorer' Sascha Jung, whose work we have admired before, discovered a doctor's surgery untouched for thirty years: urologist Dr Klaus Kraft's surgery in Bad Wildungen, north Hesse, remains as it was left: pictures here . Some of the pictures are slightly gruesome. But it's nice to know that Dr Kraft played the piano.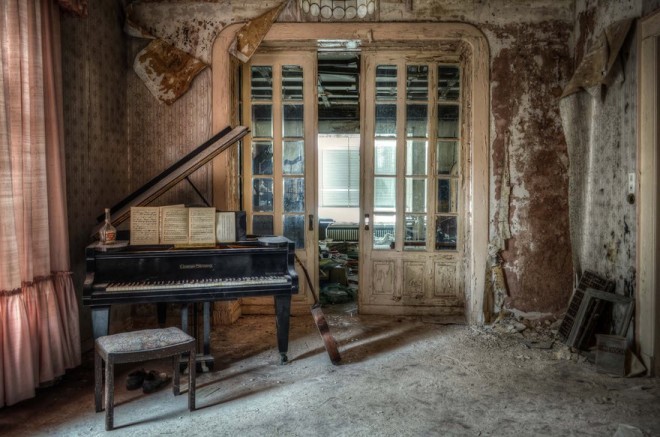 Although very odd to think that his home and surgery were completely forgotten and untouched for so long – what happened? Presumably Bad Wildungen was in the former East Germany, Dr Kraft went to the West in 1989 and his surgery has been locked up and left for 27 years. Or some scenario like that.
We were pleased to see Gloria Steinem in 'a new burst of feminine energy' against Trump.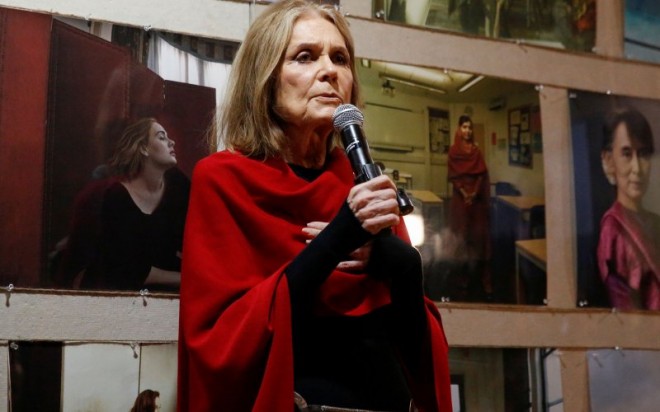 She asked here: 'What are women to do with Trump in office and a Republican-led Congress that doesn't support women's issues? How do we bring men who care about these issues to the table? How do women move forward and grow stronger together?' And the film director Maren Ade
has won Best Film Screenwriter and Director for Toni Erdmann: the top prize at the 29th European Film Awards  had never been won by a woman before (!).
Here in the UK we are humiliated by newspapers like the Daily Mail which seem to think it is perfectly okay to call the judiciary 'enemies of the people' (and indeed we the people seem to think it is perfectly okay not to do anything about this and just to pass by on the other side of the street when we should be saying, en masse, 'up with this I will not put'). In the US they have incredible magazines like Teen Vogue with it's superb editor Elaine Welteroth.
She was willing, and happy, to publish Lauren Duca's excoriating piece about the beastliness of Trump and the way he is gaslighting America ('gaslighting' being exactly what Rob on The Archers did to Helen.) The Lauren Duca piece is here. We are now devoted readers of Teen Vogue. Probably more devoted than to Woman's Hour, which has just announced a list of seven powerful women, here. Apart from applauding the imaginative inclusion of Bridget Jones, we cannot applaud putting Mrs Thatcher first – what on earth did she do for women? Also, speaking personally, and many won't agree, we can't bear the concept of power – it is such a male, aggressive word, one which we never use or aspire to. We would have preferred Woman's Hour to choose seven influential or memorable women rather than powerful (Rose pointed out that power rhymes with hour, but that is not a good enough reason in our view).
Louis Vuiton have just published their London City Guide and we are very proud that they have included us. They said that our shop is 'smartly appointed' and 'homely' (nice combo) and 'the books themselves are a triumph of style and substance. ..Persephone has created its own gentle world in a long-ignored corner of publishing, and quietly pushes a feminist agenda.' Hurrah. And Emily Rhodes in Country Life mentioned our Box Set: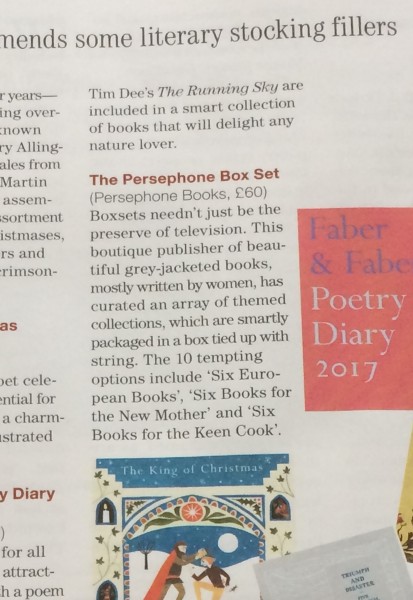 We have had our precious Wolfgang Tillmans 'No Man is an Island' poster framed and it will be in the window in the New Year, after the Christmas tree has come down.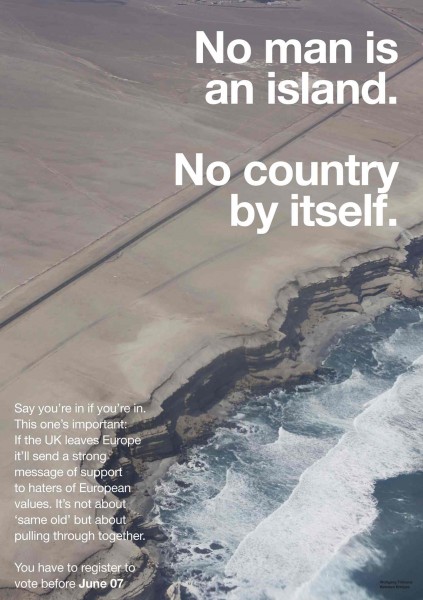 And in fact there will be a Tillmans exhibition at Tate Modern from February 15th until mid June. In the other window, in January, we are having a Lucienne Day display, as part of the celebration of what would have been her hundredth birthday.
Of course all our thoughts are with Aleppo. However, on a smaller but no less harrowing scale our thoughts are with Nazanin Zaghari-Ratcliffe who has been in prison in Iran for nine months. She is a UK citizen and has a daughter Gabriella (a British citizen who is stranded with her grandparents in in Tehran) and her mental and physical condition is dire. Eight hundred thousand people have signed a petition demanding her release. And yet she is still in prison. Why can nothing be done?
Finally, we were devastated by the continual felling of trees in Sheffield. Of course we, like the brave people who went to prison, accept that sometimes trees have to be felled. But there are ways and ways of doing things, in terms of public consultation and explanation and in not doing the felling at 5 a.m. (in order to stop protestors protesting) Indeed, trees are living objects and really what should happen is that there should be a celebration of the life and a farewell party. We managed to stop them pruning the trees in Lamb's Conduit Street. But if 'they' come back at 5 a.m. we shall not be here to commit an act of civil disobedience.
Nicola Beauman
59 Lamb's Conduit Street
choosing a selection results in a full page refresh
Opens in a new window.
Opens external website in a new window.
Back to top