A Book a Month
We can send a book a month for six or twelve months - the perfect gift. More »
16 August 2018
Dorset is cool and balmy, admittedly slightly too cool but still a relief after the recent very hot weather. Today it is pouring with rain. But mostly we spend the days sitting in deck chairs reading, at the moment Wives and Daughters by the nineteenth century Dorothy Whipple – Elizabeth Gaskell.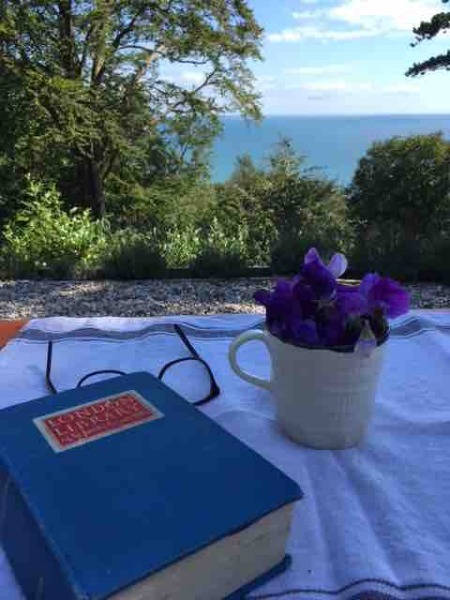 The sweet peas were grown by one of our preface writers (what an amazing bunch of people they are) who came to lunch and brought them with her. Our other beach read has been the new Meg Wolitzer The Female Persuasion. It is quite simply brilliant. Perhaps not quite up there with The Wife, which (as visitors to our 'fifty books we wish we had published' table will know) is in our view one of the great novels of the century, but still very, very good. (Only another six weeks until the film of The Wife opens in the UK.)
The two new books for October are being printed in Germany this week. Next week they are bound. The week after they are jacketed. And then they are put on the lorry and driven to  Kings Lynn, which is where our books are stored. Of course this seamless process cannot continue if the catastrophe happens next March – catastrophe, national tragedy, whatever you like to call it: unfortunately Tory Heaven has failed to bring down the Tory government – yet. And as National Provincial, one of the October books, shows – politics, whether in 1936 or 2018, is divisive. Alas.
Two marvellous things courtesy of wi-fi and a laptop: the 1953 film Tokyo Story which for some reason we had never seen before but it is superb and unforgettable and thoroughly recommended for anyone wanting to watch something really, really good rather than mildly watchable. 'Everyday life rendered tellingly provides more than enough drama to engage us deeply' says a contemporary critic about the film; does that remind one of a Persephone author, or indeed of all of them? And then last Saturday there was a documentary about Sylvia Plath and The Bell Jar which was quite simply outstanding. It ignored all the stuff usually dredged up by biographers and went straight for a) a clever evocation of women's lives in 1950s America b) interviews with four of Sylvia's friends, all now in their eighties and all articulate and convincing and deeply moving c) a narrative spoken by a confident but understated young woman, an academic, which told you exactly what you wanted to know without being pompous or egocentric. All in all it was fascinating and inspiring. Here it is for another three weeks.
Gay's the Word round the corner have a Despised and Rejected window this week which has caused a little stir on Twitter.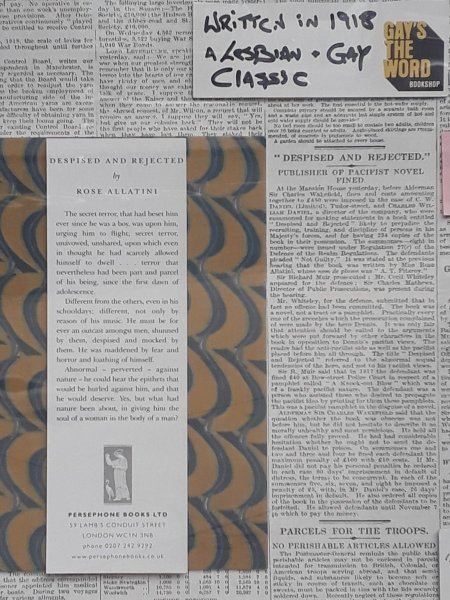 At the moment we have our No Surrender banner in the window, it's a bit scrunched up there so here is a photograph of it on display just before we set out on the women's march in June.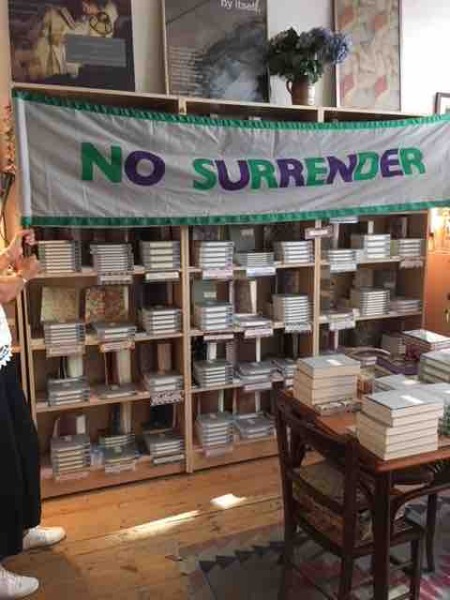 Rachel Roddy wrote a column in the Guardian in which she said: ' "All food is inevitably linked with home or place, with our nearest and dearest," says Florence White's introduction to her joyous and pioneering 1931 book, Good Things in England. It is a book that celebrates traditional English food, and one that has made me think about how much traditional English and Italian cooking have in common, especially when it comes to the breads, buns, biscuits and cakes, and the uses of spices and seeds.'
Home Front on Radio 4 continued on its wonderful way, although we were sad to see that they are now recording some of the very last episodes.
The Financial Times ran a leader headed 'How to create the high streets of the future' ie. Futureville. It was inspiring and if only the council of every small town up and down the country would take note.  Here are the first three paragraphs and the rest is here. 'Back in the long, hot summer of 2018, when Futureville lost the Edwardian-era department store that had been the flagship of its typically British high street for decades, things looked bleak. Several big chain stores had already closed. Online retailing was draining the lifeblood from many that remained. Discount shops, charity shops and boarded-up stores seemed the only ones that were multiplying. A dozen years later, Futureville is bustling again. The town dwellers — and many live on the high street once more — stroll from new apartments to modern co-working spaces, the micro-cinema and craft brewery, the gym and wellness centre, and varied attractions that make up the high street of 2030. In 2018, many said it could not be done. The local council proved them wrong. It hired a town manager who put together an imaginative and entrepreneurial team to rethink the main street. With the UK estimated even then to have up to 40 per cent too much retail space, they knew many shops were never coming back. Their mission was to turn the town centre into a modern take on the more diverse environment it had once been — before retailing expanded to squeeze out almost everything else. '
Finally, a picture that never fails to fill one with gloom and despair: 'a mass protest by male undergraduates against the admission of women to the University of Cambridge in 1897. Taken outside the Senate House (left, where the debate was being held) and Gonville & Caius College. Their banner (mis)quotes Shakespeare's Much Ado About Nothing: "Here's no place for you maids!" Women would not be admitted to full membership until 1948.' But why?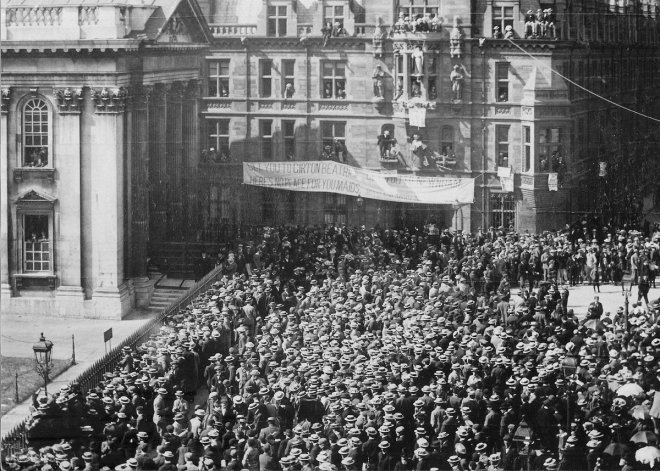 Nicola Beauman
choosing a selection results in a full page refresh
Opens in a new window.
Opens external website in a new window.
Back to top