A Book a Month
We can send a book a month for six or twelve months - the perfect gift. More »
2 August 2017
Cornwall and Somerset are the Persephone girls holiday destinations, in the rain, but happily so – with our books and knitting and Home Front re-starting and English plums in season (cut in half, lay on bread with a drizzle of maple syrup, and bake or fry for ten minutes) and visits to the Foodie Bugle and a re-watch of Jules et Jim (in homage to the late, great Jeanne Moreau) – who wants heat or airports or crowds?.
The highlight of last week in London was Just to Get Married by our author Cicely Hamilton. It was simply superb  and worth making every effort to get to the Finborough (ten minutes walk from Earls Court tube station) before August 19th. Why plays and productions like these aren't on at the National Theatre is a mystery: it really couldn't have been better. Or more profound. The Guardian called the central character (stunningly acted by Philippa Quinn) 'a home counties Hedda Gabler' while The Times began its review: 'It's a bit like being dropped into an EM Forster novel.' Of course for us Forsterians this is a tremendous plus. Although, ridiculously, the reviewer goes on to say that Forster and Cicely Hamilton are distinctly different types of writers since she was 'a suffragette who wrote to reveal the dilemmas of being a woman in the days when your choices were severely limited.' Yet Forster wrote about this all the time (think Adela Quested, think Lucy Honeychurch, think Margaret Schlegel); like her contemporary (they were both born in the 1870s but did not apparently meet), Cicely Hamilton was a marvellous writer who wrote with wit and humanity about important issues. Here is our ad in the programme.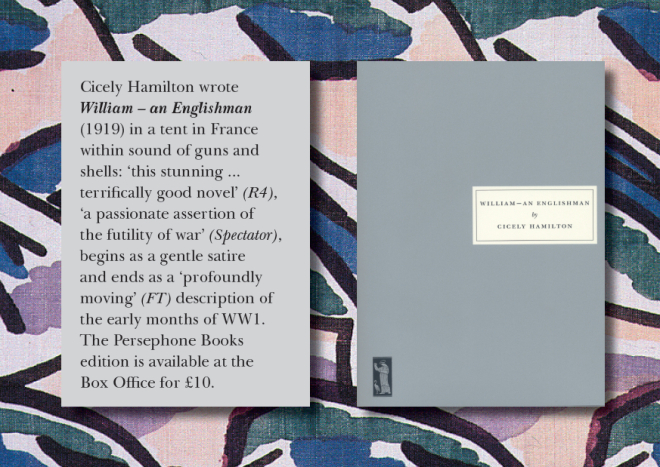 Also last week we finally got to Eastbourne to see the work of another of our authors, Tirzah Garwood, in the exhibition at the Towner. For us there was far too much by Eric Raviiious but presumably for most people he is the main attraction. In fact the highlight, apart from feeling proud of Tirzah, who opens the exhibition with a large quote on the wall (taken from Long Live Great Bardfield)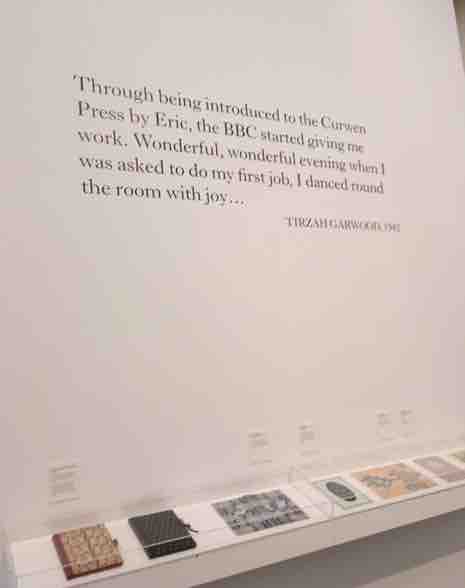 was two outstanding paintings by Barnett Freedman, The Fairground 1925 and The Stanhope Street Group 1926: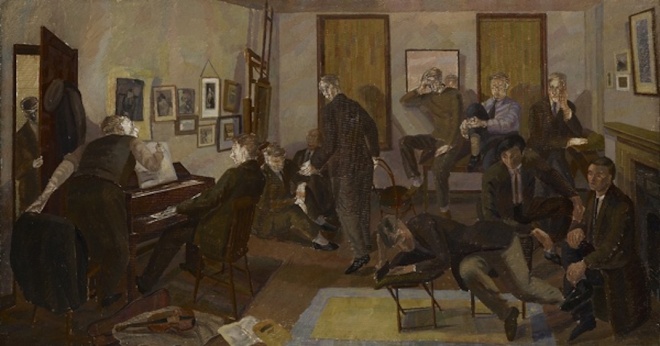 details on the Liss Llewellyn site here. 'From various surviving studies several figures have been identified as RCA contemporaries.  Roy  Keevil is  the figure coming through the door. Barnett Freedman has his back to the viewer with a violin at his feet,  Frank Barber, an impecunious artist who Ravilious tried to obtain a commission for, but who later committed suicide, is at the piano.  Francis Spear is most likely the figure seated at the foot of the easel. Alan Sorrell is portrayed full length, looking back to the viewer, Charles Mahoney is seated on the table, probably with Percy Horton seated next to him, leg raised, and G.K. Branson. Gerald Ososki is seated on the stool.  Possible candidates for the unidentified figures are Hugh Finney, Donald Towner, Athol Hay and  Albert Houthuesen.' A book about the Stanhope Street Group (no, we had never heard of it either) would be fascinating.
Something else we had never heard of, but thank heavens that has now been put right, was Kate Davis and her short video. It is showing at the Stills Gallery in Edinburgh but is also online here on the BBC site. It is a brilliant send-up of the pomposity of art criticism. Taking as its starting point a sycophantic and absurd 1961 film about Barbara Hepworth and using photographs of oppressed, overworked women, normal women who do not have reverential films made about them, the video is incisive and thought-provoking. And the best feminist statement imaginable. Here, from the video, is a photograph of a woman who is clearly at the end of her tether, in despair.
The (male) commentator says, in soppy, brown-nose tones: 'The natural quality of floors, ceilings and windows have been completely revealed. She [Barbara Hepworth] has manipulated volumes and spaces into tidy constructions whose lines and surfaces flow with an unbroken subtlety and grace.' And continues in this vein over pictures of working women, of rubber gloves, of domestic chaos, of the everyday awfulness that women put up with. Some of us might think Kate Davis was a more important artist than Barbara Hepworth, but that would be sacrilegious.
And we went to see Dunkirk. Which is an extraordinary piece of film-making and Mark Rylance is unforgettable. However, if anyone thinks it might make them feel better about the mess Little Britain is in – read this article ('No Dunkirk can avert a Brexit ruin') by Jenni Russell in the New York Times.
Nicola Beauman
59 Lambs Conduit Street
choosing a selection results in a full page refresh
Opens in a new window.
Opens external website in a new window.
Back to top