A Book a Month
We can send a book a month for six or twelve months - the perfect gift. More »
15 June 2016
The Royal Academy magazine has a piece about women who painted but were excluded from the academy's activities: Mary Moser and Angelica Kauffman were grudgingly allowed to be one of the 34 founder members but they only appeared as portraits on the wall in Zoffany's painting of all the academicians.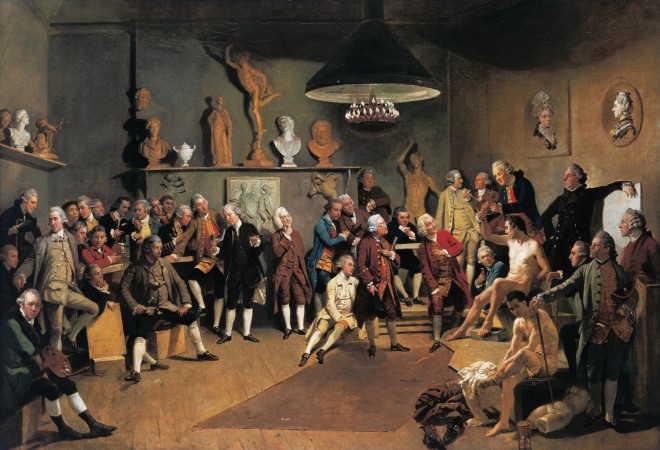 Amanda Vickery comments that 'the painting is seen to epitomize the ambivalent recognition and conditional institutional support extended to female artists. Zoffany's painting provides depressing confirmation that female institutional accreditation was grudging and tokenistic at best.' After Kauffman's return to Rome and Moser's death there were no further women Royal Academicians until Dame Laura Knight was elected in 1936. But as the director of Tate Modern says here: 'You can rewrite history but you can't reinvent it. We are highlighting the great contributions of women but there is an imbalance in the history.' Happily: 'the figure for the newly opened Tate Switch House, which contains art from the 1960s onwards, is 36% women, and half of the rooms devoted to a single artist feature women'.
So many people have come in to the shop to say how pleased they are that we have a Remain poster in the window; and now we have this Wolfgang Tillmans poster leaning against our (vintage) Union Jack (put there to celebrate the Queen's birthday):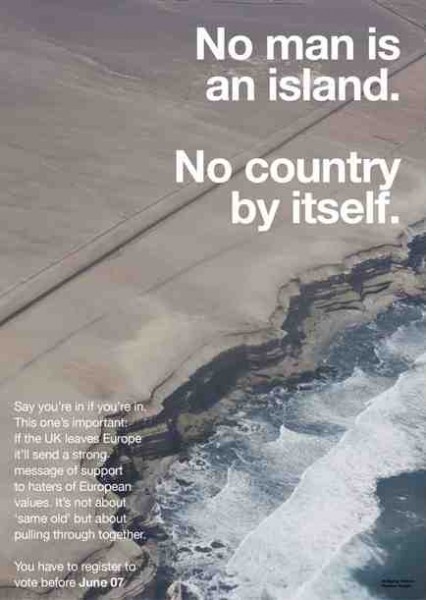 We chose it because of its literary allusion ('No man is an island,/Entire of itself,/Every man is a piece of the continent,/A part of the main./If a clod be washed away by the sea,/Europe is the less' ) and are confident that John Donne would nowadays  have been among the 282 people who signed this letter along with eg. Carol Ann Duffy, Hilary Mantel, Ian McEwen, John le Carré , Philip Pulman and Tom Stoppard.
Sir Charlie Mayfield, the chairman of John Lewis (our favourite shop) was on the World at One yesterday to talk about why Brexit would be bad for John Lewis. And this is what Michael Morpurgo (one of our most beloved writers) wrote in the New Statesman: 'I have lived all my 72 years in peace, and in freedom, surely the greatest gift handed down to us by our forebears. After centuries of conflict, after the two most devastating wars ever, the nation states of Europe finally, finally, undertook that they should never again allow themselves to be plunged into war. A European community, a European union, must be created to ensure that another war between European nations would never happen. It was, in effect, a declaration of peace and reconciliation. Close ties of trade were devised, cherished freedoms enshrined – all this to lead, it was hoped, to greater interdependence, trust, understanding and friendship between the peoples of Europe. So it happened. As a result of this, I have lived in peace; my children, too, and my grandchildren. It has been the longest period of peace Europe has ever known.
'Is this European union perfect? No. Is the bureaucracy so often absurd and wasteful? Yes. Does it have the democratic integrity it should have? No. But, does it, has it, helped to keep the peace? Most certainly. We travel freely in and out of Europe. We study at one another's universities. We trade massively. We work in each other's countries. Increasingly, we speak one another's languages, know and love the literature and cinema and art and food of others, and we marry one another often, and have European children! In all the crass banter and bickering and bitterness of this debate, all predictions of our future, in or out of Europe, are little more than an exchange of damned lies and statistics. I, like so many, am simply bewildered and disappointed. This new Europe is the greatest project for peace, together with the United Nations, that mankind has ever created. I am part of that project and fiercely proud of it. We owe Europe so much, and they owe us, too. We are good together. We need each other, sustain one another, enrich one another. So let us stay the course, live the dream, be who we are, and be European, too; embrace our place in this family of nations and help to make it ever more harmonious.'
If the Remainers are not in the majority on June 23rd it will not be for want of  wise and passionate statements by people like Michael Morpurgo. We also liked Sarah Sands' article in the Evening Standard. She said that Der Spiegel remarked last week that Europe needs France for its beauty and elegance, Italy for love and good food, and Britain for nonchalance and progress:: 'I liked that description. Beauty and love are hard to measure but an ability to be creatively open-minded and at ease is an economic virtue.'
There is an exhibition at the Queen's Gallery until October of Scottish Artists.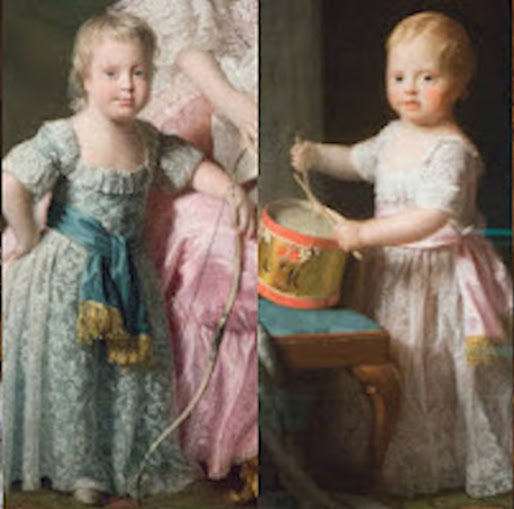 These are George IV and William IV painted by Allan Ramsay (1713-84), the first is a detail from Queen Charlotte with her two eldest sons and the right-hand portrait is Prince William, later Duke of Clarence.
Nicola Beauman
59 Lambs's Conduit Street
choosing a selection results in a full page refresh
Opens in a new window.
Opens external website in a new window.
Back to top