A Book a Month
We can send a book a month for six or twelve months - the perfect gift. More »
16 January 2020
So Lydia's baby Samuel is now three weeks old – the present we gave him, a Steiff teddy bear, was on the Post on Monday, here. And indeed in Samuel's honour we are having a week of classic toys on the Post, having last week had a week of the Bauhaus toy/nursery furniture designer Alma Buscher.
We are managing pretty well in the office, Hazel and Rosie and I, supplemented at various times by a team of other Persephone girls who come in for half a day or a day. Everyone has their allotted task, ranging from doing the book count to the e-book royalties to inputting email addresses to working out how to use a barcode scanner (we never have and think it's time we started). Meanwhile Hazel and Rosie database the orders and send them out, receive books from our distributor and send other books to them if their stock needs replenishing. Most important of all they serve customers in the shop.  As well as doing the book count Fran 2 makes sure that Fran's Bookshop (go to Instagram and type it in) and Persephone Books have a subtle synergy. Fran 1 is not here this week because she is doing publicity for her book (cf. below).
 'And how are you' people ask and apart from saying, heartbroken about Brexit we are pretty fine. We shall drape the shop in black ribbon on January 31sr and are unlikely ever to 'get over' leaving Europe (please don't tell us to do so). But life goes on and of course in our little Bloomsbury bubble nothing much will change but goodness me it's painful and upsetting to think what  a laughing-stock the English have become. However, we did our best and are proud of that. 
The most cheering thing was the film of Little Women. It is fabulous and we shall be going again soon. The FT had an article about Greta Gerwig here; and all those men who refuse to give her the top prize for her directing will realise one day how stupid they look. The Two Popes was good, though curious. The Guardian had a list of the top fifty films of the year. Little Women was fourth, 'an absolute gem. An instant five-star classic… This is a film forever in an ecstatic rush' (not quite sure what that means, but it sounds positive).
Our friend, and Persephone preface writer, Lyndall Gordon is in Princeton reading the newly-opened letters TS Eliot wrote to Emily Hale.  On the same day the letters were opened, Harvard released a slightly ungenerous letter from Eliot saying he had never loved Emily anyway. It was a pity he wrote that. Far better just to say  – we were young and in love, then we weren't young and weren't in love. And, if you are a great poet, just leave it at immortalising the unconsummated affair in great poetry, as in 'Burnt Norton':
What might have been is an abstraction
Remaining a perpetual possibility
Only in a world of speculation.
What might have been and what has been
Point to one end, which is always present.
Footfalls echo in the memory
Down the passage which we did not take
Towards the door we never opened
Into the rose-garden. My words echo
Thus, in your mind.
'Footfalls echo in the memory': we are very happily lapping up the reviews of Francesca Wade's book about five women who lived in Mecklenburgh Square round the corner from the shop. The book is Square Haunting and it is fascinating and of course neighbourly. We sell it in the shop (and if you came in on a Wednesday you would find Fran working here and she could sign it for you). Here is the Observer review and here the New Statesman. This is the square nowadays except you have to live there to be able to sit in the garden.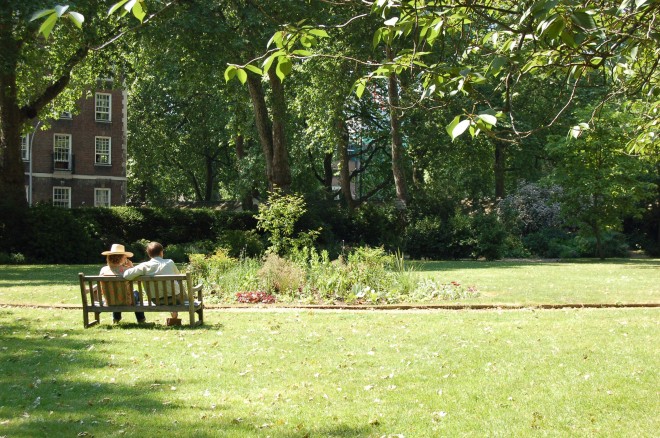 And below is a newly-surfaced 1943 painting by LS Lowry called The Mill, Pendlebury. It was bought by the mathematician Leonard Hamilton who took it with him when he went to live in America in 1949. It's being sold on 21 January, should there be anyone who reads this Letter and thinks in millions.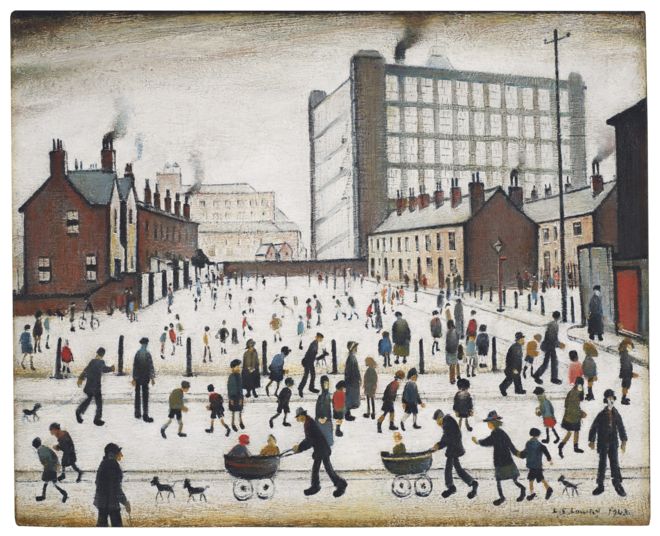 We sell the book about Brenda Hale in the shop. It's called Equal to Everything: Judge Brenda and the Supreme Court, which is not a madly good title for a very subtle and charming book – about one of the most inspirational women of our era. There was an article about Lady Hale in the Guardian here, for those abroad who don't know about this wondrous woman.
The Economist had a piece about typefaces. We were pleased about the quote from Mrs Shaw, who runs a museum devoted to the printing industry called The Type Archive. She says: 'You can't read Trollope in Times Roman. It's an outrage. It has to be Baskerville or Fournier.' Since all our re-set books use Baskerville we liked that quote very much!
Finally, who feels like a new rug for the New Year based on Anni Albers's 1926 Study? It's the textile design we used for On the Other Side, is manufactured by Christopher Farr and can be bought from the Conran Shop.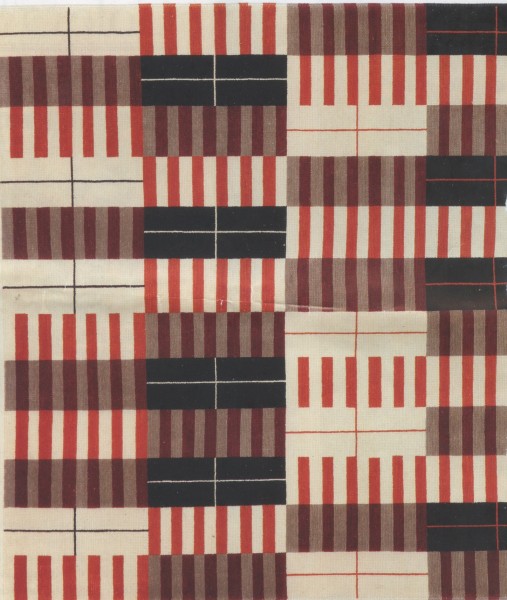 Nicola Beauman
59 Lambs Conduit Street
choosing a selection results in a full page refresh
Opens in a new window.
Opens external website in a new window.
Back to top