A Book a Month
We can send a book a month for six or twelve months - the perfect gift. More »
17 November 2015
Congratulations, and a nation's thanks, to John Whittow (b.1930) who was hugely instrumental in helping to save large swathes of Britain's coastline: he and his wife Diane set out in their battered camper van to survey the coast from Rhyl to Aberdovey in 1965. He said recently that it was exciting that conservation campaigns and good planning had saved almost all of the land he and some of his students identified as worthy of protection during a summer tramping along 8,030 miles of British shoreline and cliff tops. "I'm very proud of what we've done – I feel it is mission accomplished," said Whittow recently. Working unpaid, he and his students recorded how much of the coast in the 1960s was either inaccessible or under siege from caravans, holiday parks and heavy industry.' Here is an article with more details of the Whittows and here is one of the (many) sites have were saved: Golden Cap in Dorset.
There is an exhibition at the Queen's Gallery (until 14th February) called Masters of the Everyday: Dutch Artists in the Age of Vermeer which Simon Wilson in the RA Magazine calls a 'delightful, fascinating, intriguing, uplifting, enlightening, exhilarating, moving, instructive, erotic compilation.' A Woman at Her Toilet 1663 by Jan Steen 'carries the sternest moral message. Indeed the unseen viewers, or voyeur, would literally trip over the moral were this a real scene and were they to rush forward to to reach the temptation depicted: an  attractive woman sitting on the edge of a dishevelled bed undressing. Placed on the threshold of the doorway is a lute symbolising the vanity of earthly pleasures.'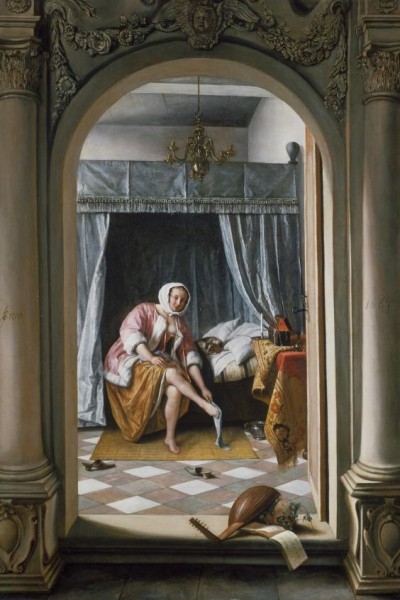 This is the back room of a pub in Sussex which is apparently where the Women's Institute began. It has now been listed, details here.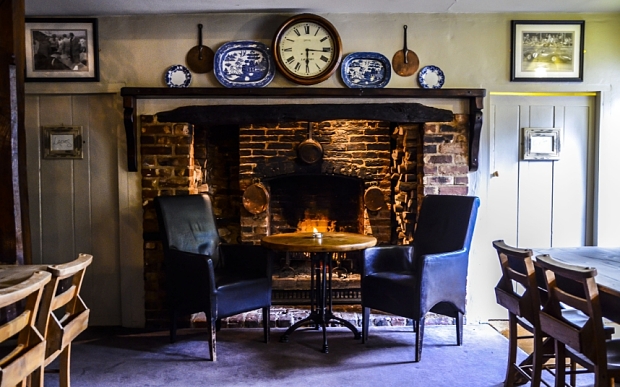 Here is a very very funny, but affectionate, review of the new Nigella Lawson programme by Sam Wollaston: 'There's no direct talk of any recent turmoil, divorce, drugs, Italian assistants on trial. But these are recipes that relax and restore, uplift and enrich… If Saatchi is watching, she's so very over you'; the Baileys prize awarded the 'best of the best' to Chimamanda Ngoze Adichie's Half of a Yellow Sun: there was quite a lot of comment about whether or not a prize just for women writers is necessary. It is. Take the following statistics:  the London Review of Books last year published pieces by 527 men and 151 women; and this autumn the entire season of the BBC1 arts programmed Imagine will not be profiling a single woman.
The Samuel Johnson prize was awarded to Steve Silberman's book about autism; there is an exhibition in Edinburgh of Modern Scottish Women Painters 1885-1965. This is Rest Time in the Art Class 1923 by Dorothy Johnstone.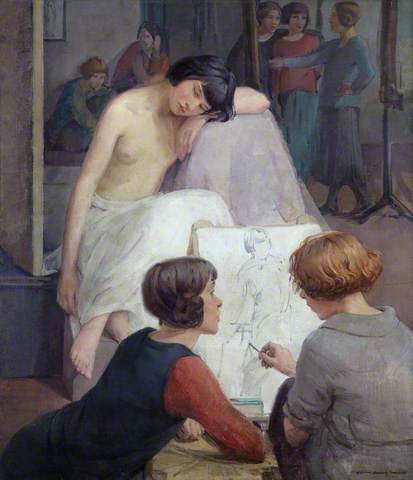 Charlotte Runcie said in the Telegraph: 'What this exhibition offers is a powerful rebuke to the anti-women art criticism of the 19th Century, as well as a stunning insight into the work of female artists and the struggles they overcame (for instance, art colleges for a long time did not allow women to attend life classes, as nudity was deemed "morally degrading"). Their interests are broad and unflinching, their work full of women thinking, working and standing shoulder to shoulder with men.It's enormously inspiring.'
Cockpit Arts are having Christmas Open Studios on November 26th=29th. We shall be selling our books at Great Dixter on November 28th and 29th and at the Selvedge Fair at Chelsea Old Town Hall on December 3rd and 4th.
Last but not least, DE Stevenson's granddaughter Penny Kent went to America to see the play of Miss Buncle's Book. She writes:
Flying to Chicago in a fearsome thunderstorm, with terrifying turbulence accompanied by flashes of lightning, I began to wonder why I was travelling 4,000 miles to see a play! Then two days later, completely lost in the back streets of a North Chicago neighbourhood, still searching desperately for the Lifeline Theatre with 2 minutes before curtain call, I was having third thoughts about my ridiculously wild whim! But then, panic over, theatre located, scooped up by the dread-locked director and sitting happily wrapped in a rug, clutching my ticket and watching Miss Buncle's Play, I realised my impetuous journey had been to great avail. It was thrilling to see my grandmother's novel, Miss Buncle's Book, finally brought to the stage, over eighty years after being written. I do not think we would ever have imagined Miss Buncle making her stage debut in Chicago – certainly a long way from Silverstream. And what a fun evening! We had read Miss Buncle's Book at my local book club in Dudswell a few years ago – so the 'Dudswell Bookies' know the story – of a woman who wrote a book about her own village. She had no money because 'her dividends' had run dry. She  decided to write a book to earn money rather than keeping hens(!); but felt that she had so little imagination that she could only write about her own life. The book is charmingly tongue-in-cheek, and, as with all my grandmother's books, has wonderful characterisations and humour.
The minimalist set consisted of two grey stone-effect benches, a rattan table and yellowing organza material floating up high, subtly lit from behind and creatively suspended on poles. Ingeniously, the props were moved around for the scenes – with the table upturned cleverly, and flickering 'fake' flames materialised for the bonfire scene! The play began in the ghastly Mrs Featherstone Hogg's drawing room at the tea party, with all the residents of Silverstream in high dudgeon about the book, called 'Disturber of the Peace'! A loud, bossy Mrs Featherstone Hogg, skilfully portrayed by Katie Hainsworth, was holding forth animatedly, and passing round the American-style scones. The quiet, mousey, unobtrusive woman, hoping not to be noticed, but immediately obvious as our charming Miss Buncle (Jenifer Tyler), was sitting head-bowed and hands tightly clenched. Little did they know that she was John Smith, the author of the book that portrayed the villagers in their true colours. They did not like what they read!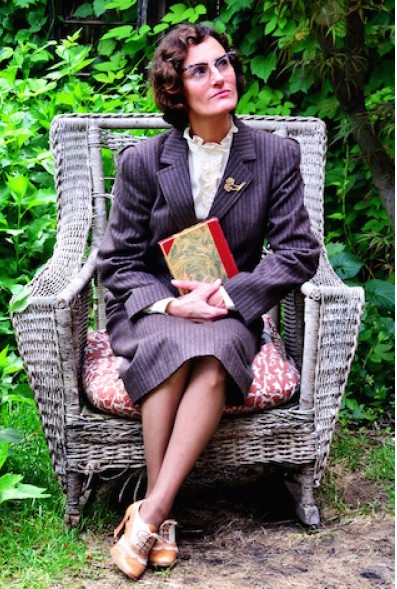 I was disappointed that Dorcas did not feature in the play, because my Mother read that part so well at the launch in Persephone Books' shop in 2009, resurrecting her Glaswegian accent from her childhood. It was probably understandable to leave out Dorcas because Barbara Buncle is near-destitute, so could ill-afford a housekeeper. The whole cast was professional and versatile – with several actors taking on two or three roles. The atmosphere was lively and light-hearted, with the actors speaking with good pace, energy and very-passable English accents. They obviously enjoyed the fun of the play. Mr Abbott was delightfully played by Peter Greenberg – I could fully-understand why Barbara almost immediately fell in love with him.
At the interval, I noticed that there were copies of the American (Sourceoobks) edition of Miss Buncle's Book for sale on the bar: wonderful that this play may be encouraging people to read the book, and possibly DES, for the first time ever.
I was most impressed by Christina Calvit, the scriptwriter, who adapted the book so creatively and skilfully, keeping the essential humour and fun invoked by D E Stevenson, but editing the story so that it could be enjoyed on the stage over two hours. She inferred that there were three endings of the story within a story within a story, but basically, the final ending was the same as in the book. At the end of the play, Dorothy Milne, the director, introduced me to the actors and the writer, and we had a photograph together on the set. They were extremely friendly and chatty, and said that they loved acting in the play. I said that I had thoroughly enjoyed the superb production, and wished them luck with the five week run. My parting remark was 'my grandmother would have been really proud of you'! I know that she is glowing.
Nicola Beauman
59 Lamb's Conduit Street
choosing a selection results in a full page refresh
Opens in a new window.
Opens external website in a new window.
Back to top