A Book a Month
We can send a book a month for six or twelve months - the perfect gift. More »
4 April 2018
Easter was rainy and quiet but now things are brightening up: and the window boxes outside the shop are coming to life.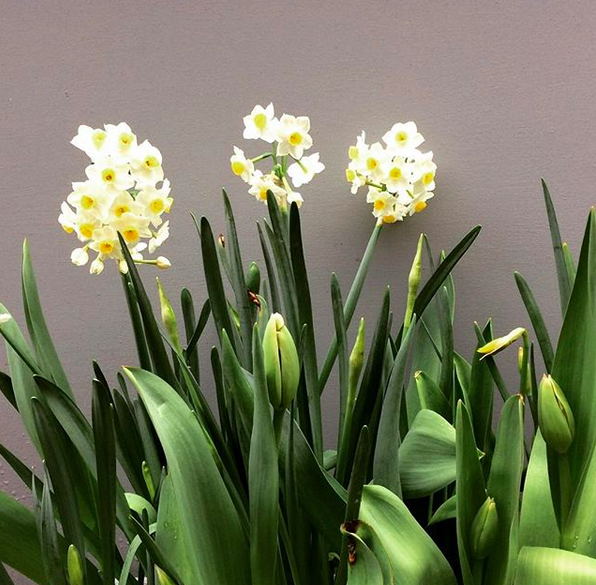 Some Annabel Munn mugs in a new colour have arrived: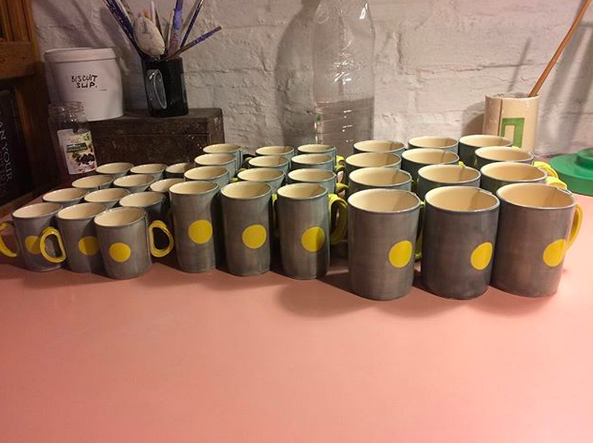 And some new Moroccan baskets – quite large and sturdy with daffodil yellow handles.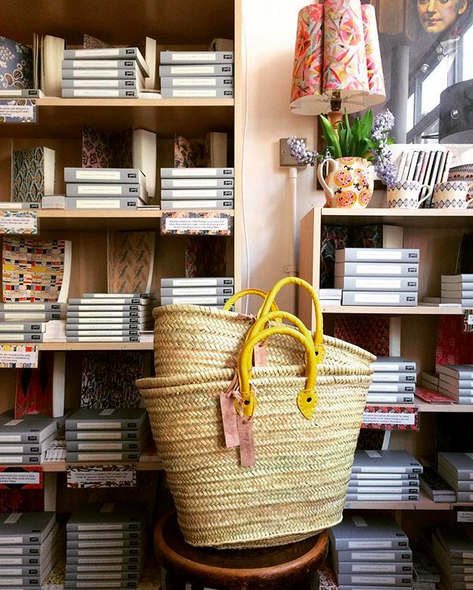 There was a good piece in the FT by Diana Evans about the influence, good or malign, of Updike and how she is grateful to Couples, Revolutionary Road (by Richard Yates) and Light Years (by James Salter) for positing the domestic realm as a valid site for literature. 'As for female writers, I could not have done without the work of Jean Rhys, Doris Lessing, Jhumpa Lahiri and Rachel Cusk in having the courage to write about what are typically and disparagingly  "feminine" themes: when a woman writes about marriage, she is writing about a marriage; when a man writes about marriage, he is writing about Society.' This is well put.
RC Sherriff wrote superbly about marriage in The Fortnight in September. The novelist GB Stern gave it a pre-publication puff which appeared on the book's flaps. She wrote: 'To read The Fortnight in September is comparable to listening to a violin played with unconscious mastery. In Journey's End Mr RC Sherriff achieved universality by the simple means of not concerning himself with it; and in The Fortnight in September he repeats the same magic formula. Mr Stevens and his wife and their three children, Dick and Mary and Ernie, are lovingly realised as individuals, sharp with tiny human griefs and pleasures, emotions and temptations, financial troubles and ecstatic triumphs of the spirit. Therefore, because they are delightfully, sometimes tragically, real and not swollen symbols of mankind, they seemed to me, by the time, most reluctantly, I  reached the end of the book, to be every clerk and his family in the world who had ever looked forward to their seaside holiday of one fortnight in a year of toil. Mr Sherriff's humour is sly and sudden and catches you before you are aware of it. His observation is so delicate and true that he quickens you own memories to race alongside of his, till you hardly know whether you yourself or the Stevens family are arriving at Bognor Station. Only a really fine artist can achieve this.'
The Forum this month is about Wilfred and Eileen, a profound book although on superficial reading it is 'merely' about a First World War soldier saved by his wife (thereby raising all kinds of questions about who is the hero and who the heroine). Wilfred's grandson is of course Anthony Seldon. This is what he writes in his book Beyond Happiness about Etty Hillesum: 'Etty was a little known figure  who perished in Auschwitz at the end of 1943, aged 29. For me, she ranks alongside the better known Dietrich Bonhoeffer & Martin Niemoller. She is my absolute heroine of the twentieth century…Her mindful sense of the present moment allows her in her diary to see and describe nature in all its beauty, even amidst the most terrible  suffering. Her awareness of God gave her an extraordinary power to fortify and give heart to all those terrified souls around her… Her ability to find joy in the face of the horror marks her out as one of the outstanding souls of the century. Pope Benedict XV1 said of her in his first audience after his resignation, "That frail …young woman transfigured by faith, became a woman full of love & inner peace who was able to declare , "i live in constant intimacy with God". We are pleased about this link between Wilfred and Etty.
Nicola Beauman
59 Lambs Conduit Street'
choosing a selection results in a full page refresh
Opens in a new window.
Opens external website in a new window.
Back to top